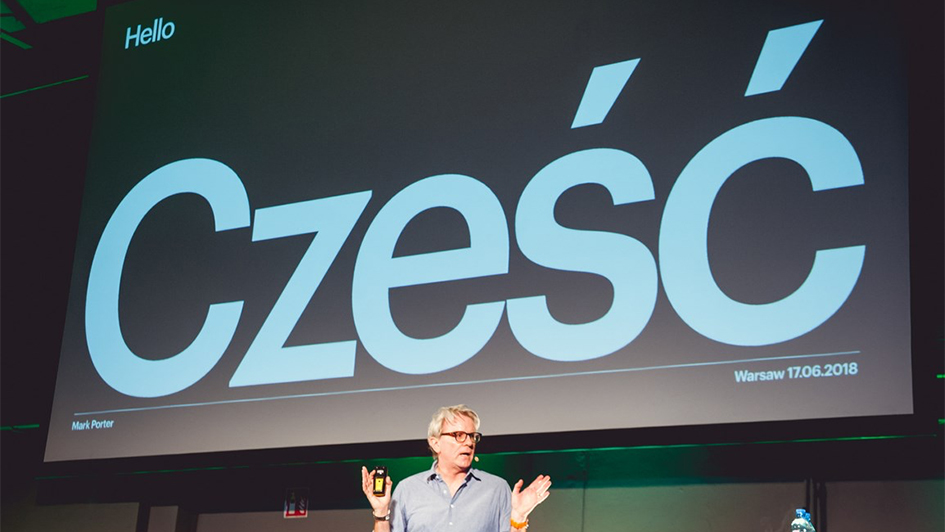 On 16th and 17th of June, the hall at 65 Minska Street became a center for the creative exchange of ideas, sharing experiences and knowledge. The fifth edition of Element Talks is behind us – see a summary of the conference from the KaboomTeam point of view.
But what is it all about? Element Talks is a conference for the creative industry, which is becoming more and more popular year by year. We had a chance to talk about ET's beginnings in May with Olga and Paulina, the organizers of this event – you can read the interview here. This year, the post-industrial spaces of the hall at 65 Minska Street hosted over 2000 people! Including, for the first time, our team. First, but surely not last 🙂
Ready, Set, Element Talks
The morning birds that registered for the event on Saturday morning (or even earlier, on Friday afternoon) were allowed to pass through the Element Market and get to know the exhibitors' offer even before the first lectures. Present were representatives from a few clothes shops, including 'Pan Tu Nie Stał' –  very interesting boutique that's based on the 70s and 80s pop culture. Gestalten and Karakter publishing houses had their own booth.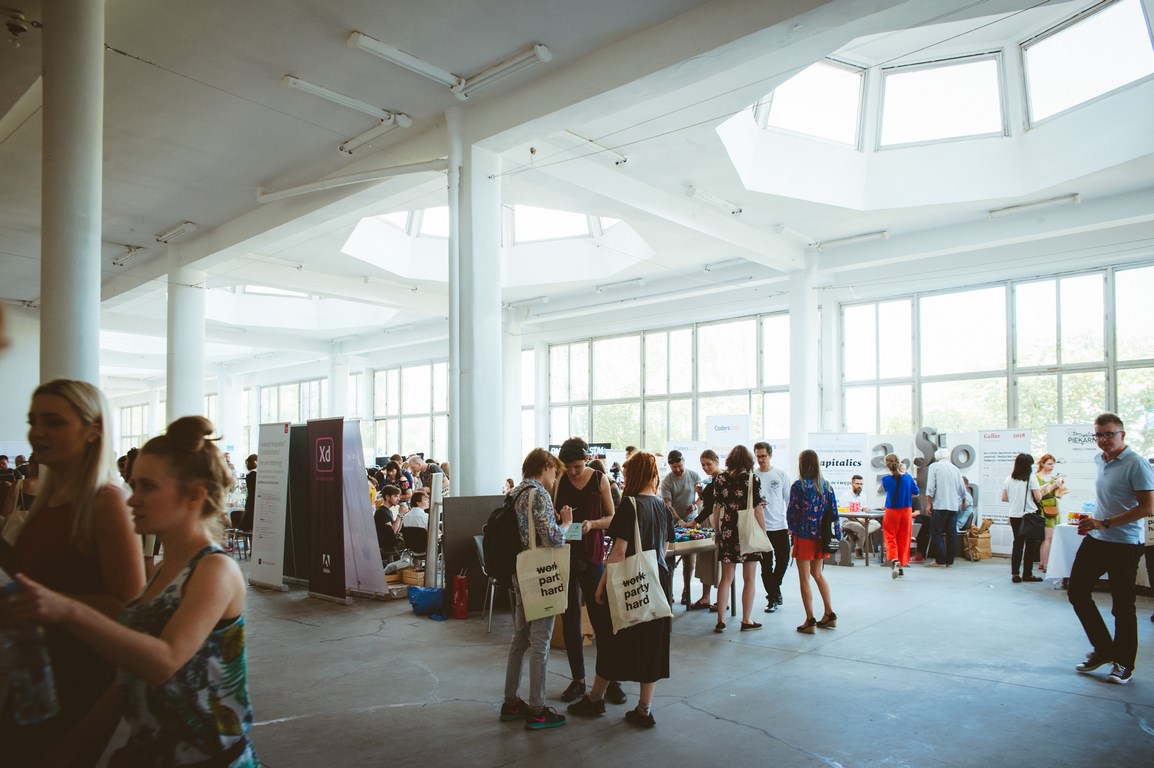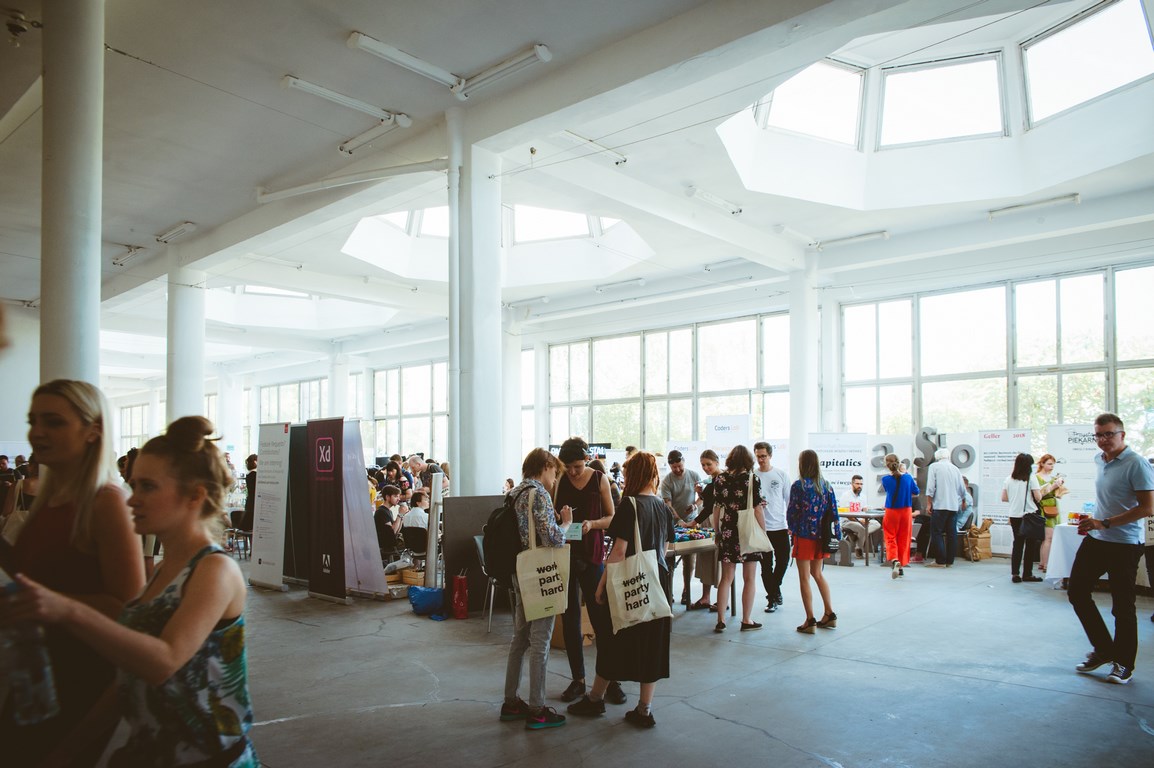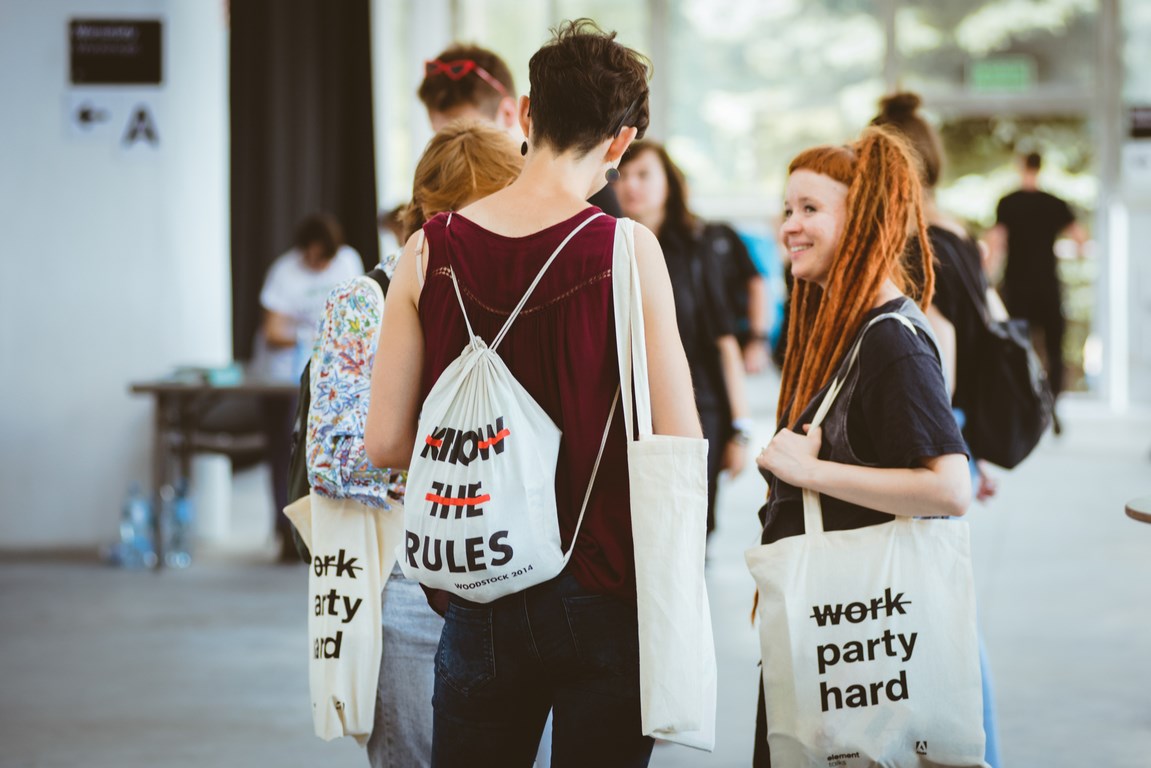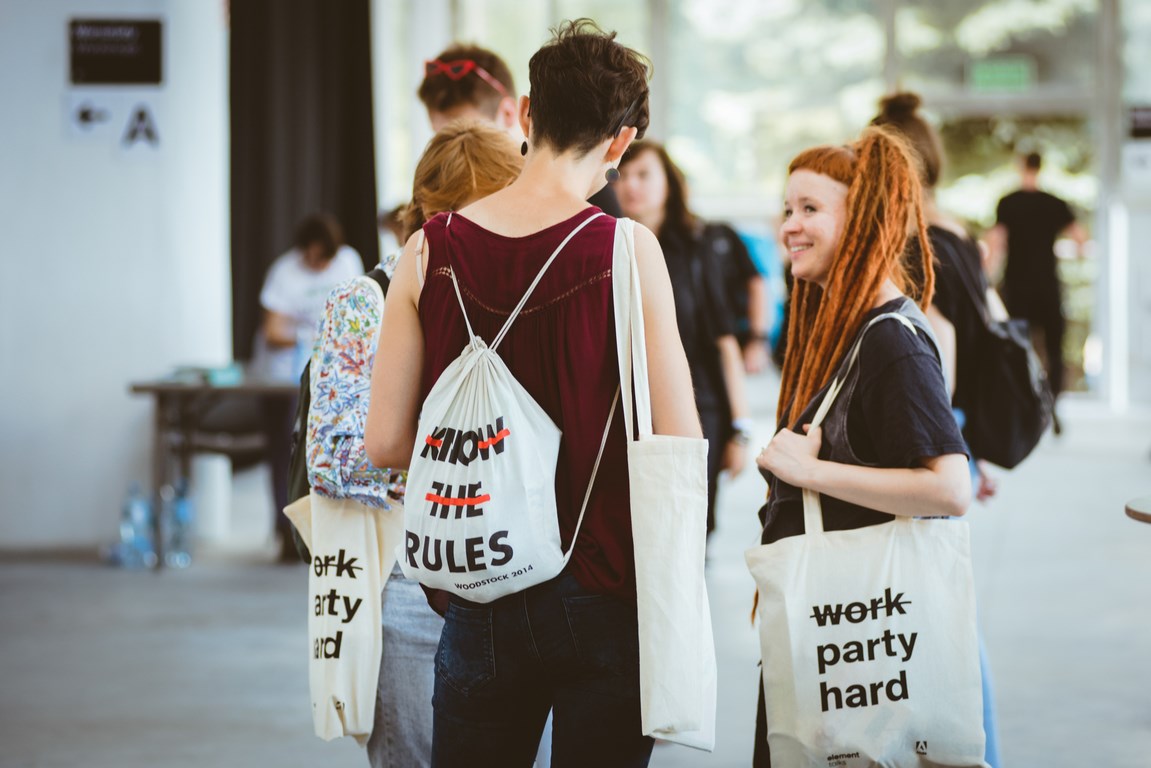 The participants had the opportunity to get to know Adobe XD, check out what's it like to be the user at the Coders Lab stand or enter the Arctic Paper chillout zone. During the entire conference, everyone could try their luck in a game prepared by Rosetta Type Foundry and win fonts or discounts.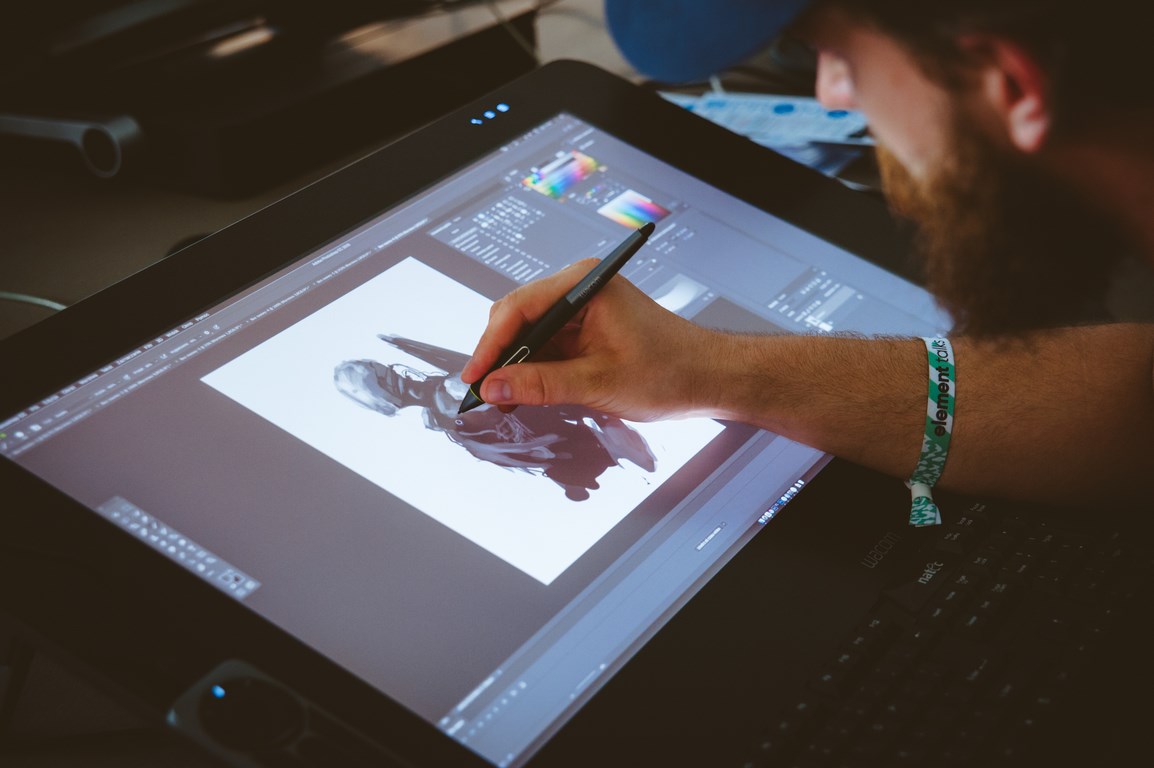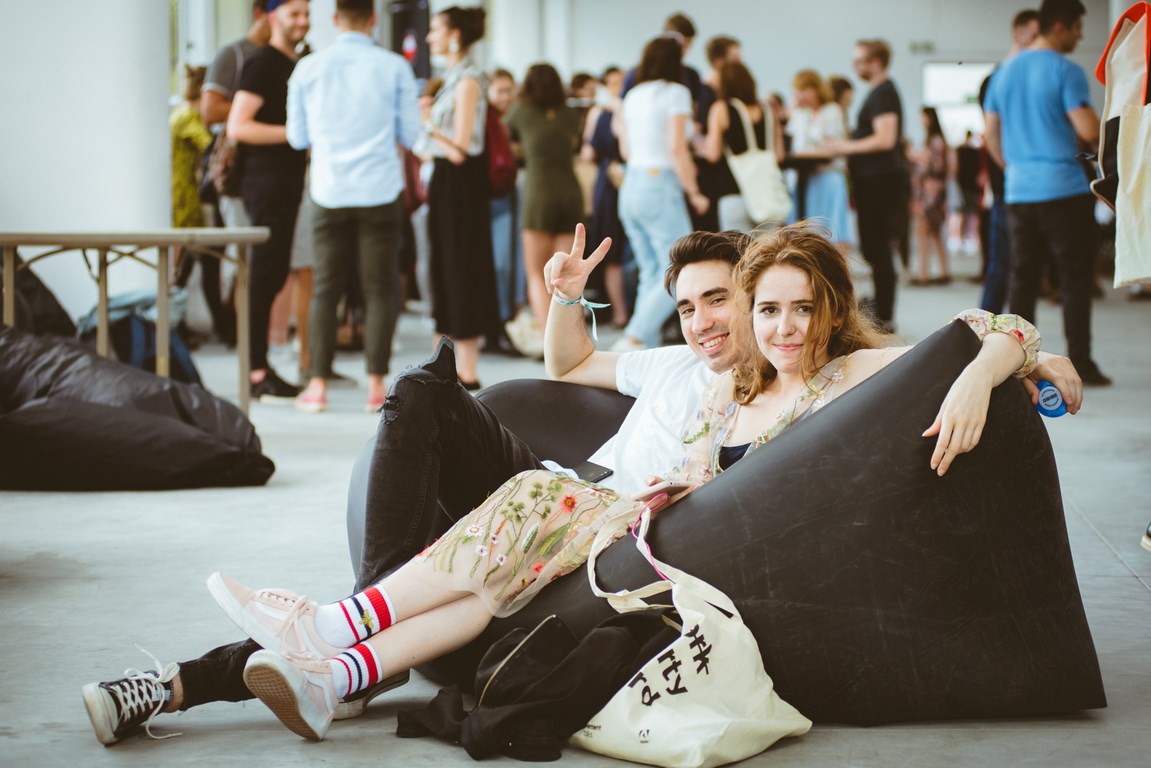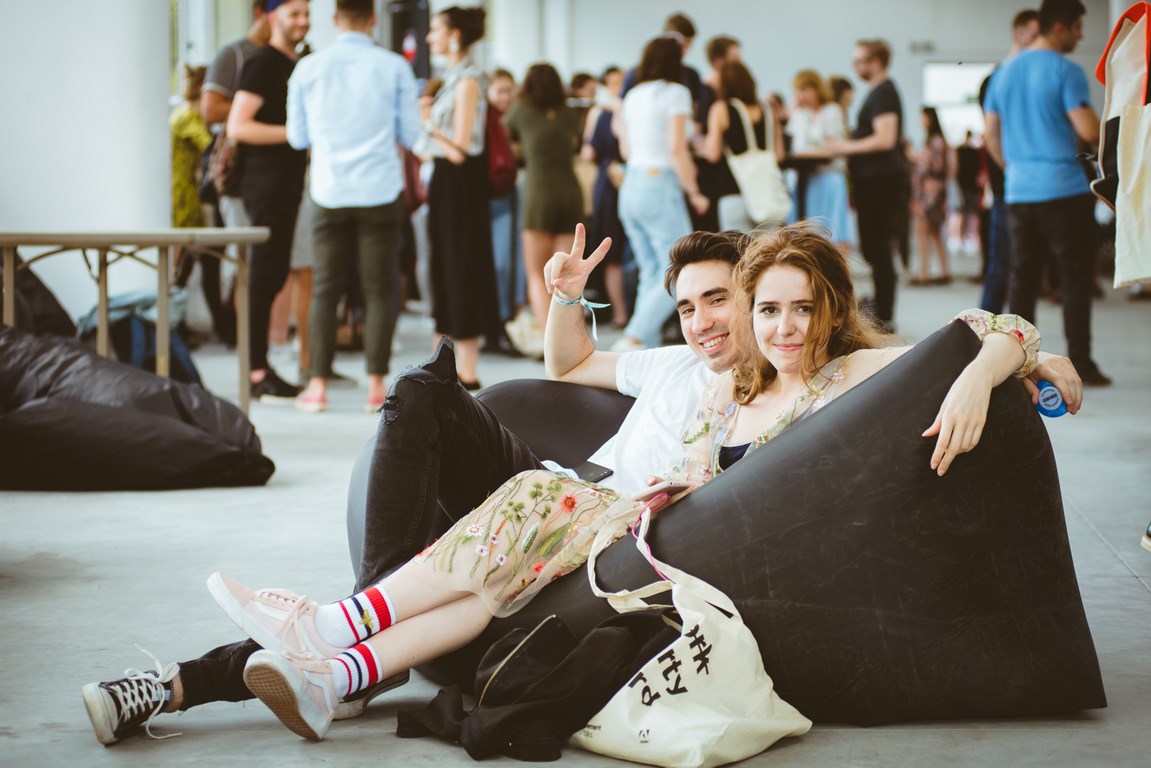 Everyone could buy really cool looking paper products and gadgets – scarves and socks – designed jointly by Element Talks and Kabak. At the back of the hall, there was a gastronomic zone with several food trucks.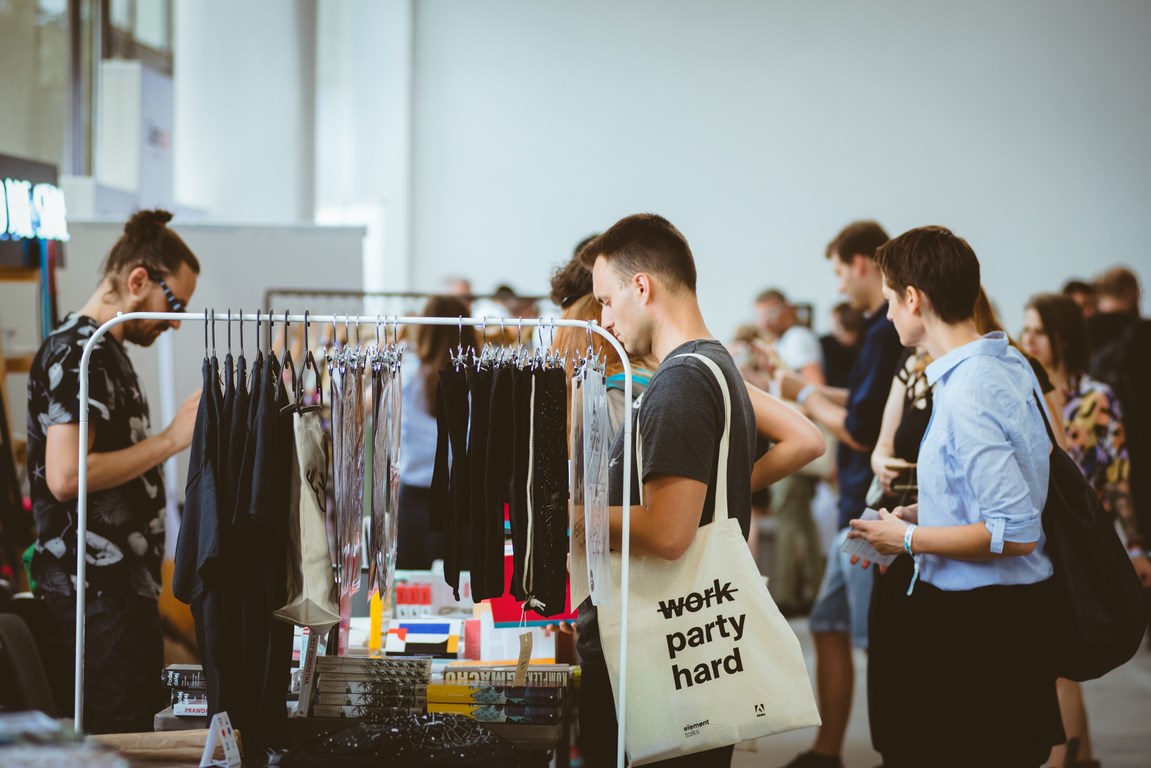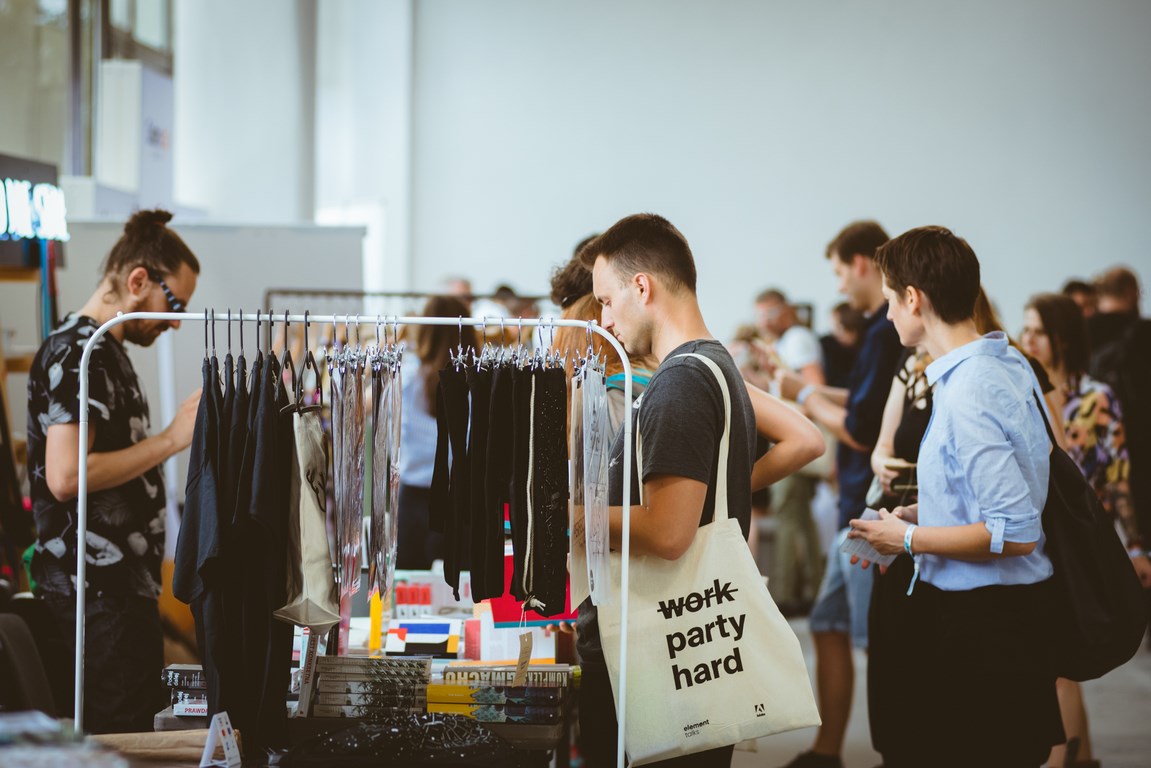 Knowledge
The main point of the event was, of course, the lectures. Entrepreneurs, speakers, and practitioners from all over the globe were among the guests sharing. They shared their knowledge, answered questions, and discussed many fascinating issues.
The first day of the conference began with the lecture by Adi Binder – the director of design and UX from Tel Aviv, who explained how to use the Fibonacci string in one's projects.
Martina Flor, a lettering designer from Berling, charmed with the positive energy and passion with which she spoke about typography and lettering. Martina presented the art of drawing silhouettes of letters, shared her experiences, as well as the problems she encountered in her career, and the projects she was involved in. The idea of sending hand-made postcards has stolen our hearts!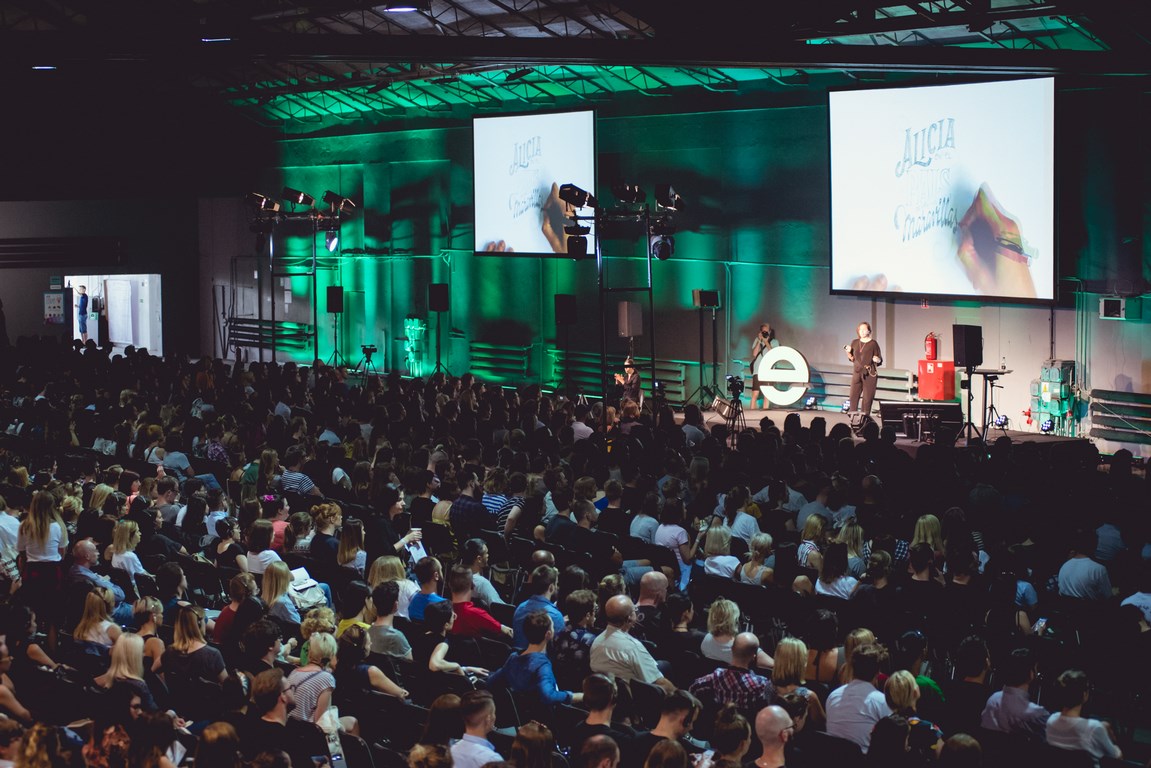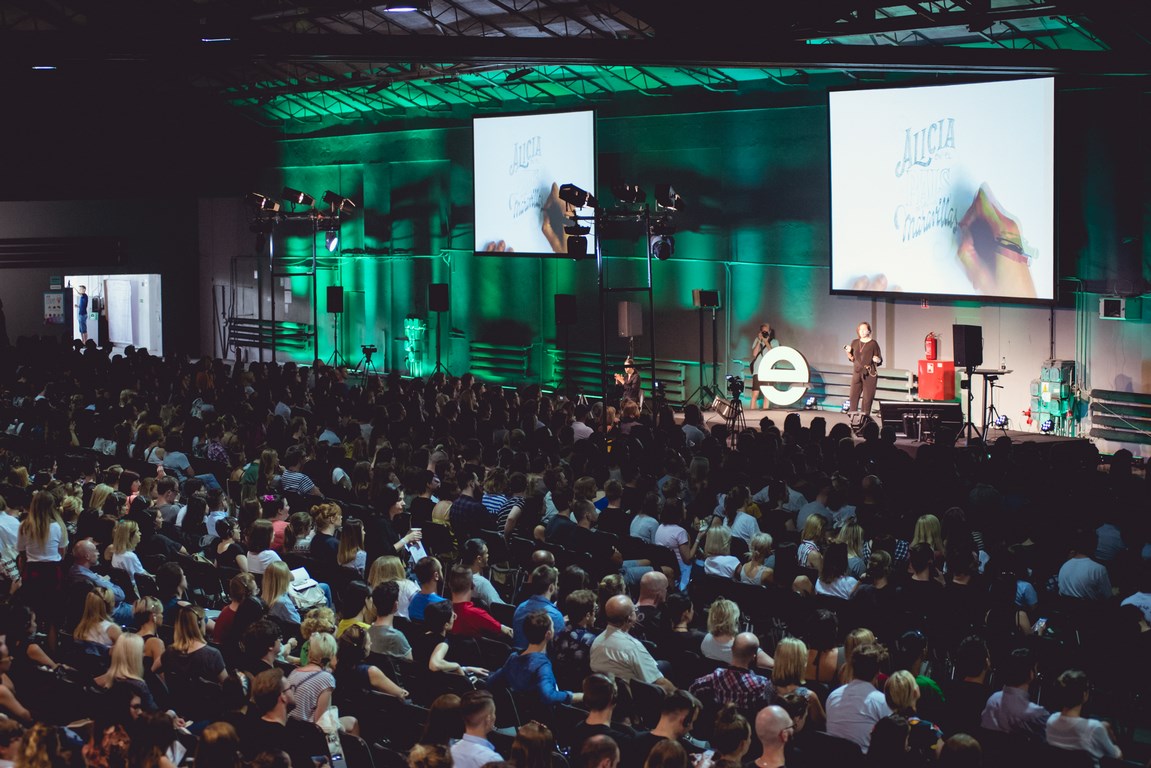 Deyan Sudjic, Director of the Design Museum in London, shared his thoughts on the future of design. The lecture was mesmerizing. So great, that we returned from the conference equipped with his book: "The Language of Things: Understanding the World of Desirable Objects" It's a great read.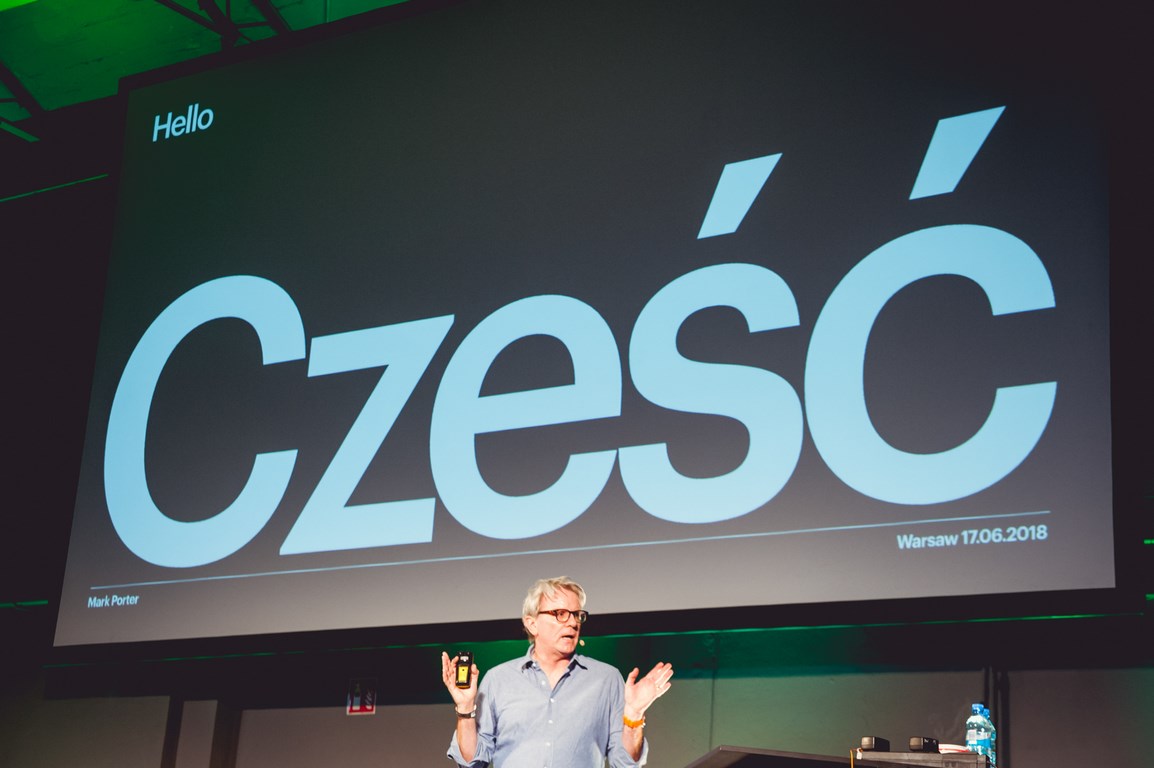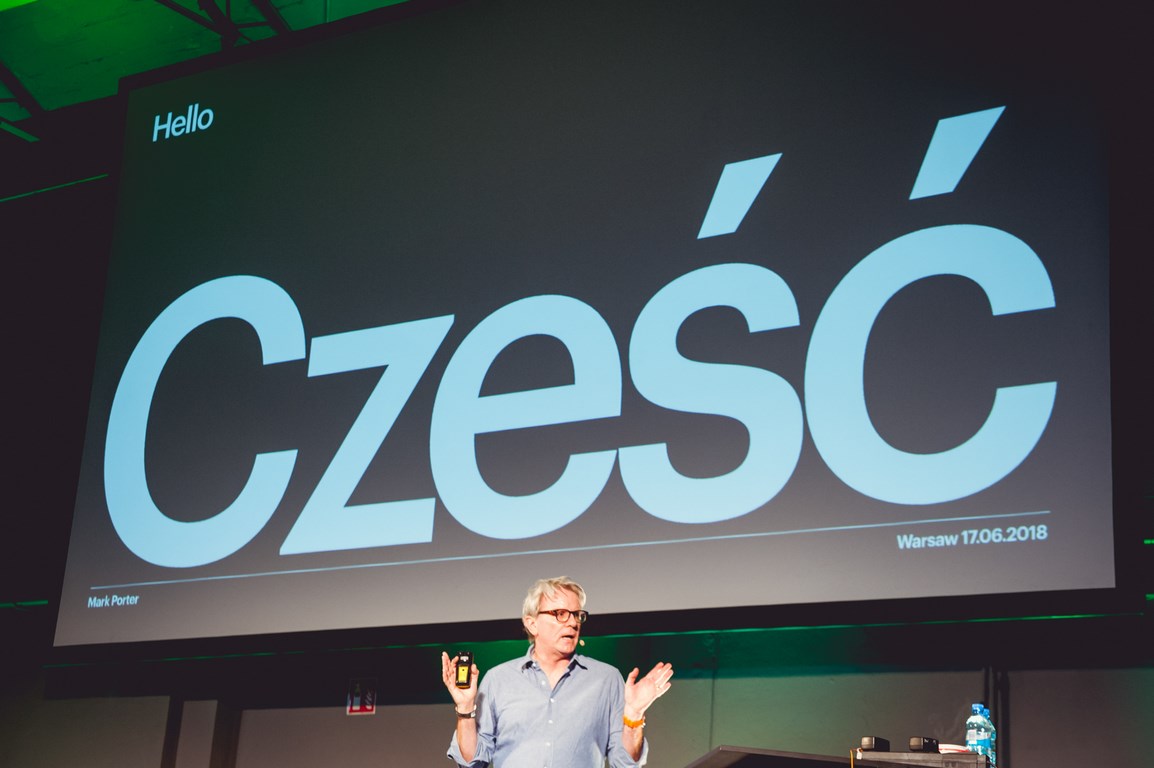 José Bernabé from Amsterdam talked about his failures and successes, and why experimenting and not being afraid of bold decisions is important in the designer's work.
An interesting lecture was given by Adrian & Gidi – a multi-creative duo from Amsterdam. They deal with photography and set design, and use in their work various techniques and materials such as paper, polystyrene, wood or plexiglass. Adrian and Gidi are a couple both in business and in life, so in their speech, there was no shortage of stories about the benefits and difficulties resulting from working (and living) together. You must see their profile at Behance – we love it!
The second day was opened by speakers from Poland – Bartosz Jurkowski talked about how improvisation techniques develop key competencies for designers. The fans of healthy eating listened with curiosity to Łukasz Zbieranowski's lecture. Graphic designer, co-founder of Fajne Chłopaki studio, shared his experience on how movement, food and other physical factors affect creativity and everyday productivity.
Petra Eriksson from Stockholm talked about her career as an illustrator. Eike Konig from the Hort design studio shared his experience in selected projects. Daniela Garza from Mexico talked about the Studio Anagram work. Marek Porter's lecture "How to develop one's non-creativity" was a very interesting event. The British publication designer noticed how much time we spend talking about creativity, although in fact professional creative work is composed of many more important factors – from communication skills and getting to know the problems of each client to constant updating of our knowledge and systematic work. The second day ended with the speech of Małgorzata Piernik, thanks to whom we got to know the reality of UX designer's work.
In the rooms next to the big lecturing halls, consultations were being carried out. They gave people a chance to present their portfolio and exchange experiences with the speakers in a more intimate atmosphere.
Workshops
Workshops are a key part of every edition of Element Talks. Even before the start of the conference, everyone could sign up for the paid or free classes with experienced practitioners. Let's name a few:
together with Poznań Service Jam, the visitors got to know the principles of design thinking;
Dorota Stępniak discussed how to work with a freelance artist;
Bartosz Jurkowski taught how to implement habits from the Improvisation Theatre for the UX industry.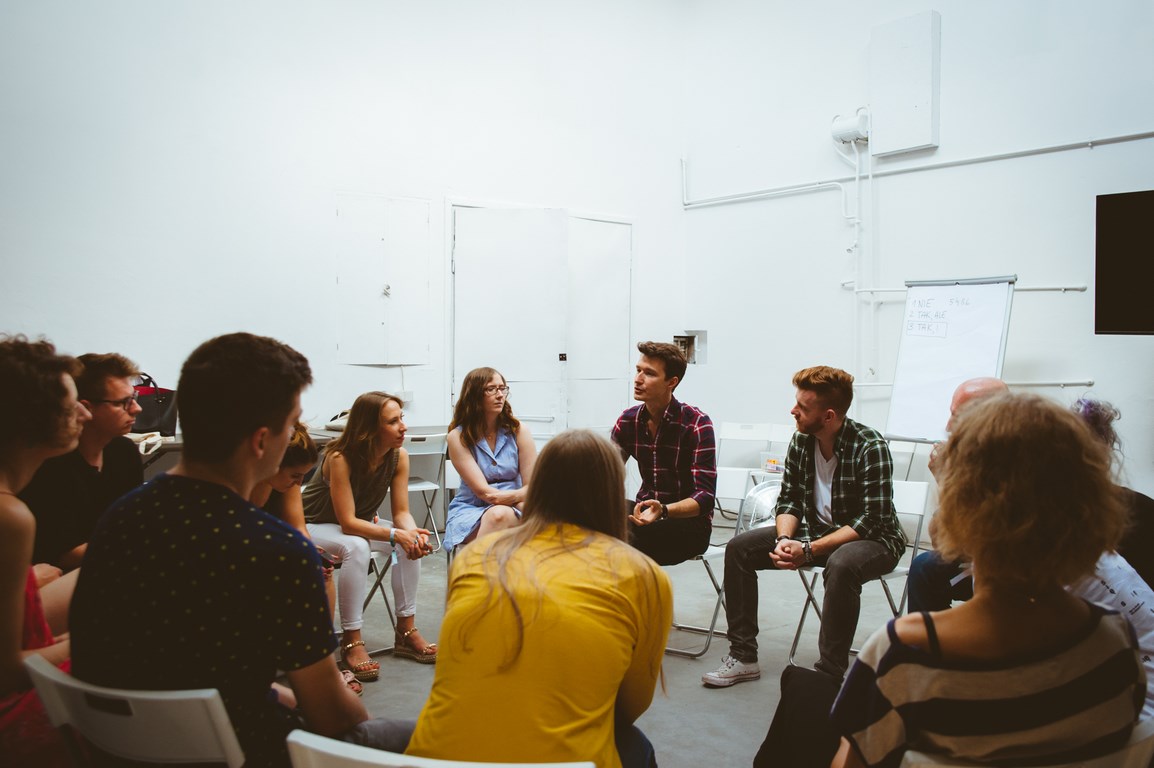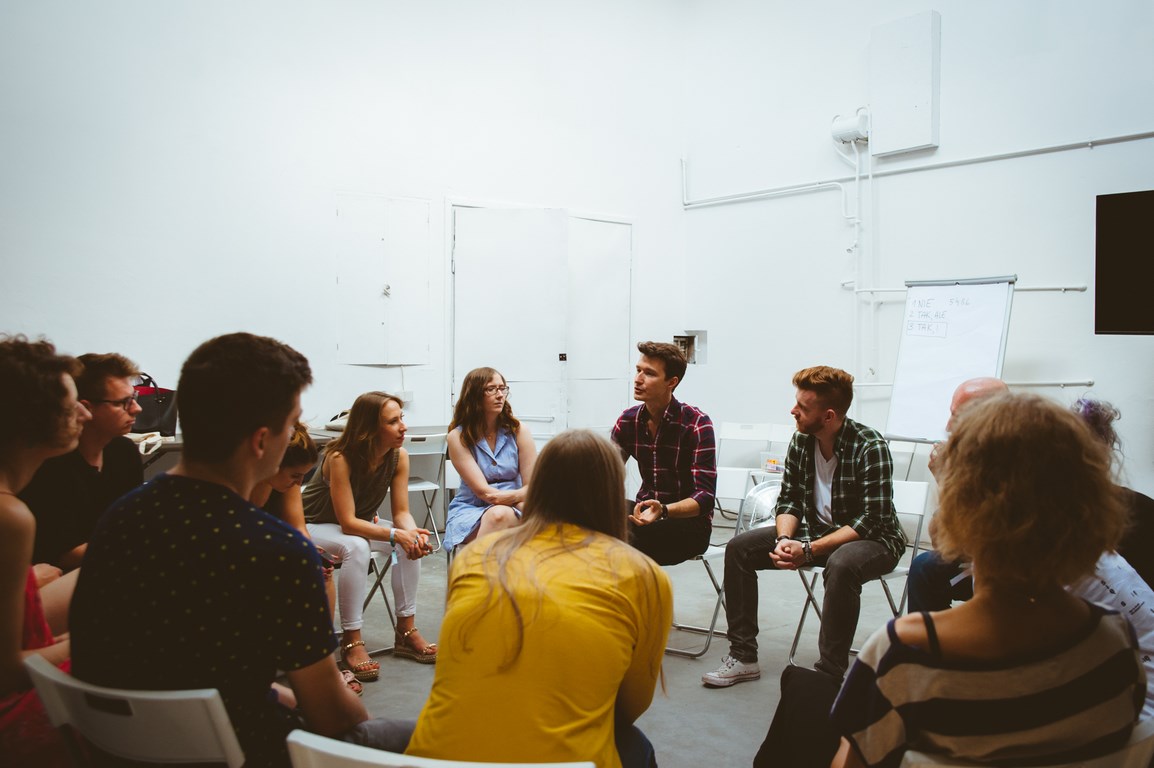 An interesting option for many participants were workshops on habits in the creative industry (unfortunately, we did not manage to get inside) and the Entrepreneur's Internet Toolkit. It is worth noting that everyone could sign up for the workshop – not only the conference participants.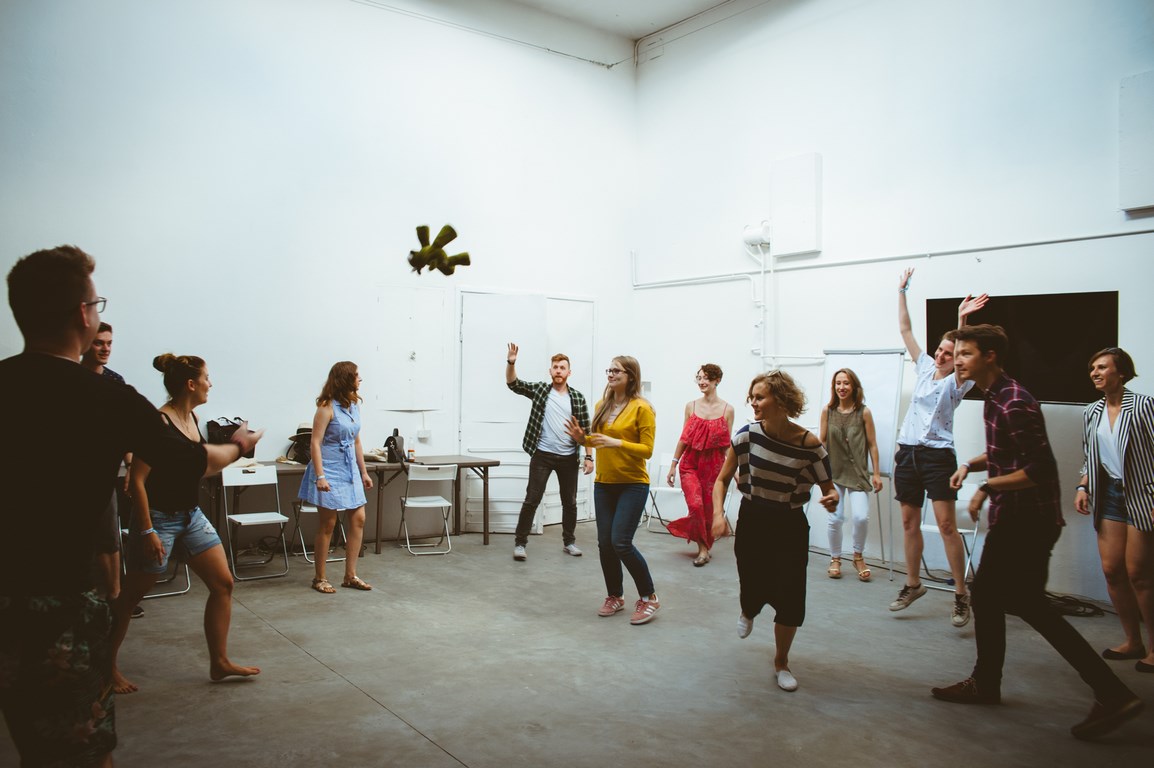 Networking
The third important element of the conference was networking. Firstly, creative people could get to know each other even before they arrived in Warsaw, thanks to the Participants tab on the Element Talks website. During the conference, everyone could sign up for Speed Talks – one of several networking sessions based on the concept of quick dating. Meeting 10 new, interesting people in 20 minutes? Sign us up! This kind of idea is an excellent substitute for traditional networking, in which, let's be honest, not everyone feels very confident. 🙂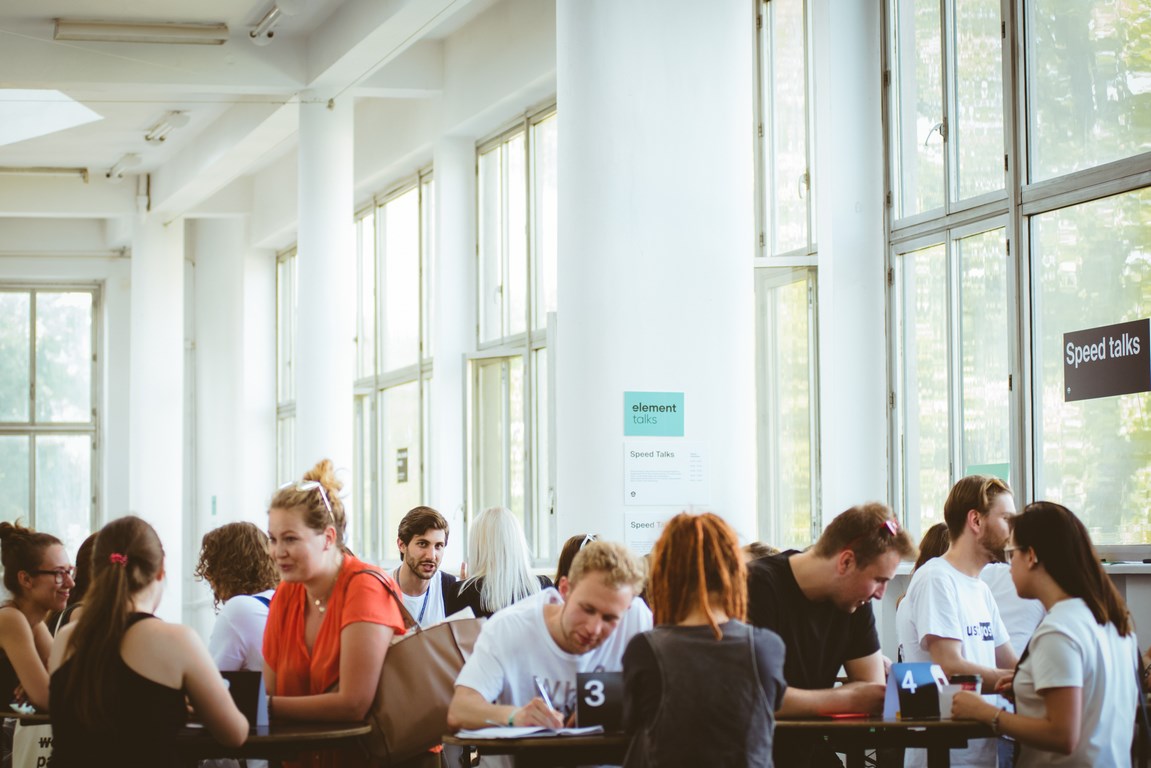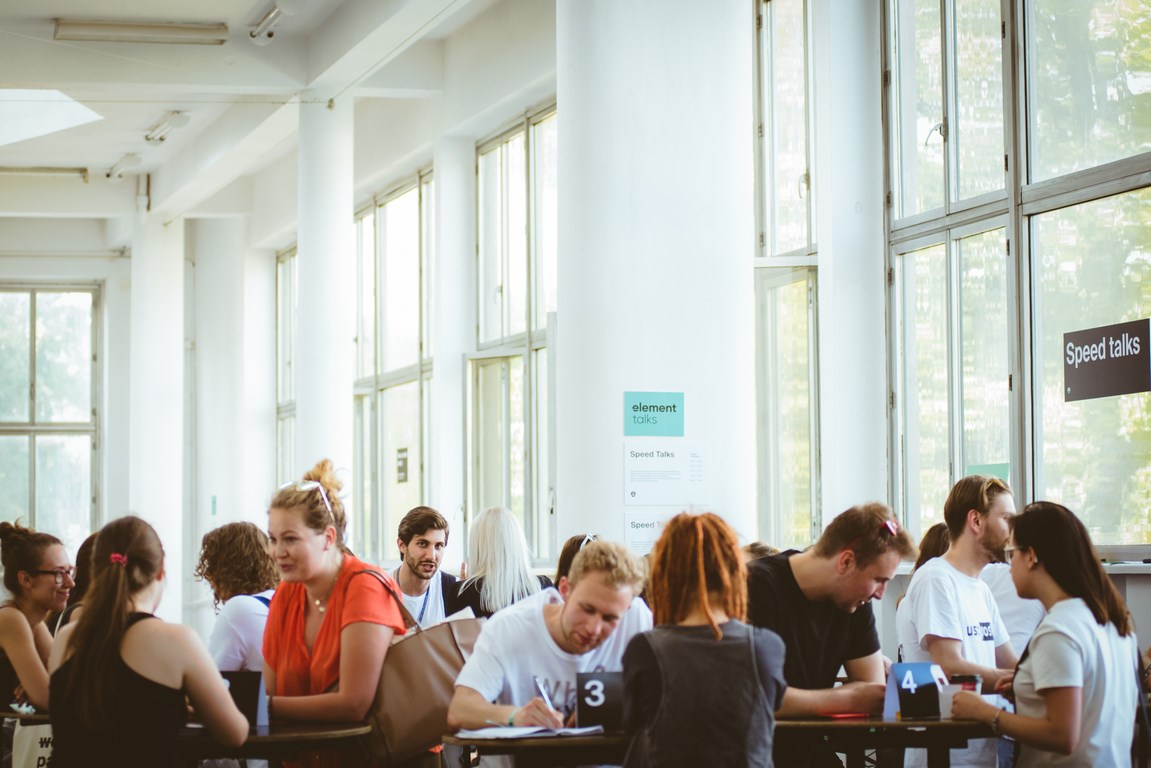 Saturday was a great opportunity to experience Warsaw's night fever. Designers from all over Poland went to the very center of it – the main street of our capital city, for an afterparty. They met Kulturalna Café and engaged in all sorts of very cultural and not-that-cultural activities 🙂 A friendly atmosphere, cold brews, and good music created perfect mood to make some important contacts or make some great friends, which is worth way more!
…and that's not all of it!
Do Element Talks have all the aspects that we can require, to call a conference exhaustive? We were there for the first time, but we couldn't help noticing some things that are worth polishing. We are not very sensitive, but the lack of air conditioning was a bit distracting. The heat was becoming a problem at times, and it was difficult to concentrate on the content of the presented lectures. The bigger issue was the quality of sound and echoing, which made it difficult to understand foreign speakers. Simultaneous interpretation managed to partially save the situation, but a few parts got lost in it. The gastronomic zone was a bit too humble, to deal with 2000 participants – three food trucks plus a stand with sweets and baked goods got overwhelmed pretty quickly. We also have to agree with the opinion shared by many of the participants, who were more regular visitors and attended previous editions. The speakers who gave lectures at previous conferences focused more on interesting topics, sharing ideas, and experiences. This year there were, of course, a lot of such speakers, who provided entertaining content that also broadened one's horizons. However, in several speeches the topics started being less and less substantive, finally giving way to the so-called "portfolio reviews". It's a pity because, on the other hand, the selection of topics was really great.
Those are the things that, we're sure, can easily be fixed during the next editions. They also don't change the fact that our strongest memory from the conference is the atmosphere of pleasant relaxation and joy of being among super creative people. We brought home a whole trunk of good energy and positive motivation. Thanks, Element Talks! Miss you already and looking forward to next year's event!
P.S. Which is taking place in May 2019, and will be combined with the prestigious Europe Design Awards ceremony. Worth to put it into the calendar even now!
Photography: PAT MIC
---
PL
Work / party hard – byliśmy na Element Talks!
16 i 17 czerwca hala przy Mińskiej 65 stała się centrum kreatywnej wymiany myśli, dzielenia doświadczeniami i wiedzą. Piąta edycja Element Talks za nami – zobaczcie podsumowanie konferencji z punktu widzenia KaboomTeam. #NaszPierwszyRaz 😉
Ale o co chodzi? Element Talks to konferencja skierowana dla branży kreatywnej. O początkach ET Angelika z KaboomTeam rozmawiała w maju z Olgą i Pauliną, organizatorkami całego zamieszania –  jeżeli jesteście ciekawi, wywiad znajdziecie tutaj. W tym roku, w interesujących, postindustrialnych przestrzeniach hali przy Mińskiej 65 pojawiło się ponad 2 000 osób! W tym KaboomTeam – po raz pierwszy. I na pewno nie ostatni. 🙂
Element Talks czas start
Ranne ptaszki, które zarejestrowały się w sobotę z samego rana (lub jeszcze wcześniej – w piątek po południu), jeszcze przed pierwszymi wykładami mogły przejść przez Element Market i zapoznać się z ofertą wystawców. Pojawiła się ekipa z Pan tu nie stał (bidon z napisem Barszcz – na zawsze w naszych sercach:)) i wydawnictwa: Gestalten oraz Karakter z przepięknymi książkami albumami i klasykami. Poza tym uczestnicy mieli okazję poznać możliwości Adobe XD, "wejść w buty" użytkownika przy stoisku Coders Lab lub wpaść do strefy chilloutu Arctic Paper. W trakcie całej konferencji każdy mógł spróbować swojego szczęścia w grze przygotowanej przez Rosetta Type Foundry i wygrać fonty lub dobre zniżki.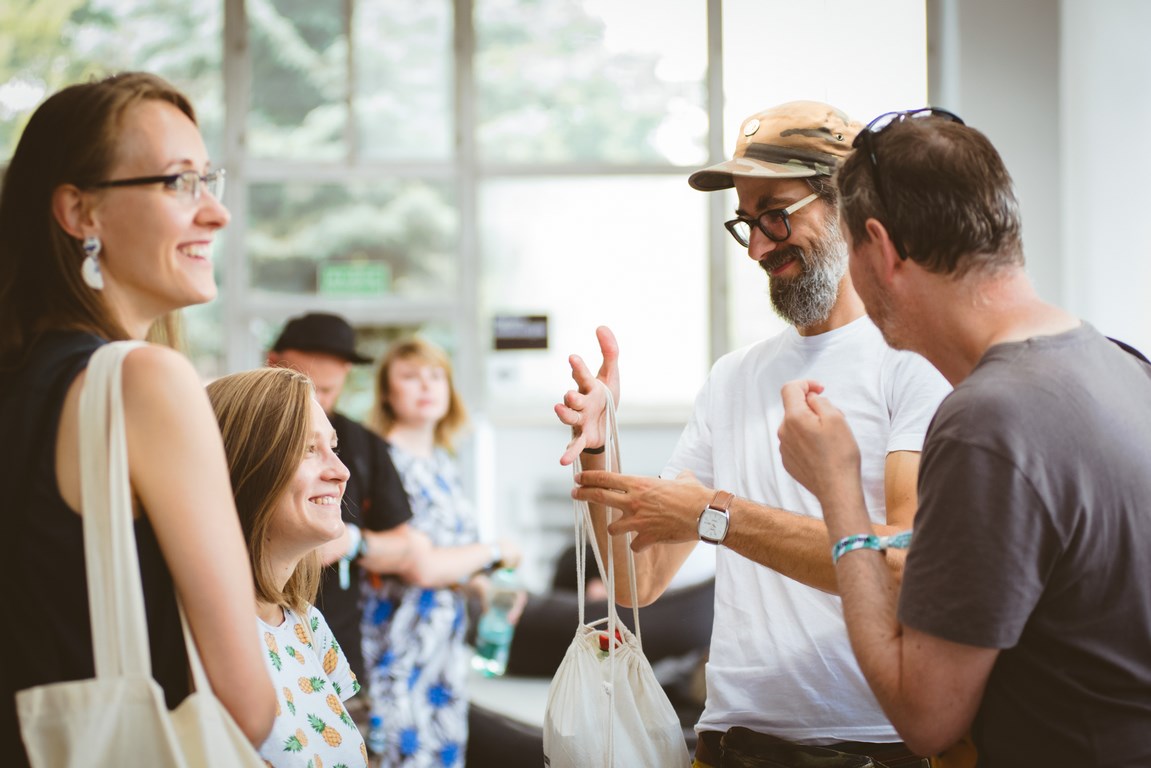 Każdy mógł kupić piękne produkty papiernicze i zaopatrzyć się w gadżety – szaliki oraz skarpetki zaprojektowane wspólnie przez Element Talks i Kabak. Na tyłach hali ulokowano strefę gastronomiczną z kilkoma food truckami.

Wiedza
Głównym punktem wydarzenia były oczywiście prelekcje. Wśród gości, którzy w tych dniach dzielili się z nami swoją wiedzą znaleźli się praktycy z całej Europy i nie tylko.
Pierwszy dzień konferencji rozpoczął Adi Binder, director of design and UX z Tel Awiwu, który powiedział, w jaki sposób wykorzystać ciąg Fibonacciego w swoich projektach.
Martina Flor, projektantka letteringu z Berlina, ujęła pozytywną energią i pasją z jaką opowiadała o typografii oraz liternictwie. Martina przedstawiła sztukę kreślenia sylwetek liter, podzieliła się swoimi doświadczeniami, problemami, jakie napotkała w swojej karierze oraz projektami, w które się angażuje. Pomysł z wysyłaniem własnoręcznie wykonanych pocztówek bardzo nam się spodobał!
Deyan Sudjic, dyrektor Muzeum Designu w Londynie podzielił się swoimi przemyśleniami dotyczącymi przyszłości designu. Było dobrze, było super. Na tyle super, że z konferencji wróciliśmy bogatsi o książkę Deayana: Język rzeczy. W jaki sposób przedmioty nas uwodzą (czyta się świetnie).
José Bernabé z Amsterdamu opowiadał o swoich porażkach oraz sukcesach, przekonywał również, dlaczego eksperymentowanie i brak obaw przed odważnymi decyzjami jest ważny w pracy projektanta.
Z ciekawą prelekcją wystąpili Adrian & Gidi – duet multikreatywny zajmujący się fotografią oraz scenografią z Amsterdamu, który w swojej pracy wykorzystuje przeróżne techniki oraz materiały m.in. papier, styropian, drewno czy pleksi. Adrian i Gidi to para zarówno w biznesie jak i w życiu, dlatego w ich prezentacji nie zabrakło opowieści o korzyściach oraz trudnościach wynikających ze wspólnego działania. Koniecznie zobaczcie ich profil na Behance – KaboomTeam kocha https://www.behance.net/adrian-gidi
Drugi dzień rozpoczęli prelegenci z Polski – Bartosz Jurkowski opowiedział, w jaki sposób techniki improwizacji rozwijają kompetencje kluczowe dla projektantów. Fani zdrowego odżywiania z ciekawością wysłuchali prelekcji Łukasza Zbieranowskiego. Grafik, współtwórca studia Fajne Chłopaki, podzielił się swoim doświadczeniem o tym, jak ruch, jedzenie i inne czynniki fizyczne wpływają na kreatywność i codzienną produktywność.
Petra Eriksson ze Sztokholmu opowiedziała o drodze, jaką pokonała w swojej karierze ilustratorki. Eike Konig ze studia projektowego Hort podzielił się swoimi doświadczeniami przy wybranych projektach. Daniela Garza z Meksyku opowiedziała o pracy studia Anagrama. Ciekawym punktem programu była prelekcja Marka Portera "Jak rozwijać swoją nie-kreatywność". Brytyjski projektant publikacji zauważył, jak wiele czasu poświęcamy na rozmowy o kreatywności, chociaż tak naprawdę na profesjonalną pracę kreatywną składa się dużo więcej istotnych czynników – od umiejętności komunikacji i poznania problemów każdego klienta po nieustanne aktualizowanie swojej wiedzy i systematyczną pracę. Dzień drugi zakończyła Małgorzata Piernik, dzięki której poznaliśmy realia pracy UX designera.
Analogicznie do prelekcji, w salach obok odbywały się konsultacje umożliwiające prezentację swojego portfolio oraz wymianę doświadczeń z prelegentami w kameralnej atmosferze.
Warsztaty
Kluczową częścią Element Talks są warsztaty. Jeszcze przed rozpoczęciem konferencji każdy mógł zapisać się na wybrane płatne lub bezpłatne zajęcia z doświadczonymi praktykami. Wymieńmy kilka: razem z Poznań Service Jam uczestnicy poznawali zasady design thinkingu, Dorota Stępniak opowiedziała, jak wygląda praca z freelancerem natomiast Bartosz Jurkowski uczył, w jaki sposób zaimplementować  nawyki wyniesione z Teatru Improwizacji dla branży UX. Ciekawą opcją dla wielu uczestników były warsztaty dotyczące nawyków w branży kreatywnej oraz Internetowy Niezbędnik Przedsiębiorcy. Warto podkreślić, że na warsztaty mógł zapisać się każdy – nie tylko uczestnik konferencji.
Networking
Trzeci kluczowy element konferencji? Networking! Kreatywni mogli poznać się jeszcze przed przyjazdem do Warszawy dzięki zakładce "Uczestnicy" na stronie internetowej Element Talks. W trakcie trwania konferencji każdy mógł zapisać się na Speed Talks – jedną z kilku sesji networkingowych przypominających swoją formułą szybkie randki. Dla nas bomba – poznać 10 osób w ciągu 20 minut? Świetna sprawa. Tego rodzaju inicjatywa to doskonałe zastępstwo dla tradycyjnego networkingu, w którym – bądźmy szczerzy – nie każdy czuje się pewnie. 🙂
W sobotni wieczór dizajnerzy z całej Polski spotkali się na after party w Cafe Kulturalna, w samym sercu Warszawy. W przyjaznej atmosferze, przy dobrej muzyce i piwie nawiązywanie ciekawych kontaktów lub zabawa ze swoją ekipą były jeszcze bardziej przyjemne!

To jeszcze nie koniec
Czy Element Talks to konferencja kompletna? Byliśmy na niej po raz pierwszy, więc nie mamy punktu odniesienia w postaci poprzednich edycji. Nie mogliśmy jednak nie zauważyć pewnych rzeczy, nad którymi warto popracować. Nie jesteśmy wrażliwi, ale we znaki dawał się brak klimatyzacji. Przez upał trudno było skoncentrować się na treści prezentowanych prelekcji. Większym problemem okazała się jakość dźwięku oraz pogłos, przez który zrozumienie zagranicznych prelegentów przychodziło z trudem. Sytuację częściowo uratowało tłumaczenie symultaniczne. Minusem była niewielka strefa gastronomiczna – trzy food trucki plus stoiska ze słodkościami i wypiekami to zbyt mało dla 2 000 uczestników. Częściowo podzielamy również opinie uczestników dotyczące tematów wystąpień – prelegenci z poprzednich edycji (obejrzane na Youtube) koncentrowali się na omówieniu ciekawego zagadnienia, podzieleniu się wiedzą czy doświadczeniem.W tym roku w kilku wystąpieniach merytoryka ustąpiła miejsca tzw. "przeglądom portfolio". A szkoda, bo sam dobór tematów prezentował się naprawdę świetnie.  
Powyższe rzeczy są jednak do naprawienia. Nie wpływają też na fakt, że atmosferę przyjemnego luzu i radości czerpanej z przebywania wśród super kreatywnych ludzi zapamiętamy na długo. Z Element Talks wyjechaliśmy pełni dobrej energii i motywacji do dalszego działania. Już dzisiaj tęsknimy i czekamy na kolejny rok!
Ważna informacja – 6 edycja Element Talks odbędzie się w maju 2019 roku i będzie połączona z wręczaniem prestiżowych Europe Design Awards. Warto już dzisiaj wpisać w kalendarz.
Zdjęcia: PAT MIC
ZapiszZapisz
ZapiszZapisz
ZapiszZapisz
ZapiszZapisz
Content Designer at the agency Niebieski Lis and the author of the blog Copyblogerka. She teaches how to create good content online and believes that anyone can learn it. When she's not writing, she hits the gym or goes for an occasional jog. Foodie and tv series addict – if they're good, she watches them by seasons rather than episodes.