Dear Kaboomer, recently we have been embracing many of the Pinterest 2022 trends in our photoshoots. We thought it is the perfect time to release one of our favourite trends in this blog. Every time Pinterest releases its moodboards we cannot help but feel inspired! This week's topic is the Pearl Trend.
Are pearls a trend that will reach new heights? With searches going up for pearl nails, pearl accessories, pearl themed parties and much more, we created a pearl collection of free stock photos inspired by the Pinterest Pearl Trend for you to use on your next project.
Let's start with our collage inspired by the pearl aesthetic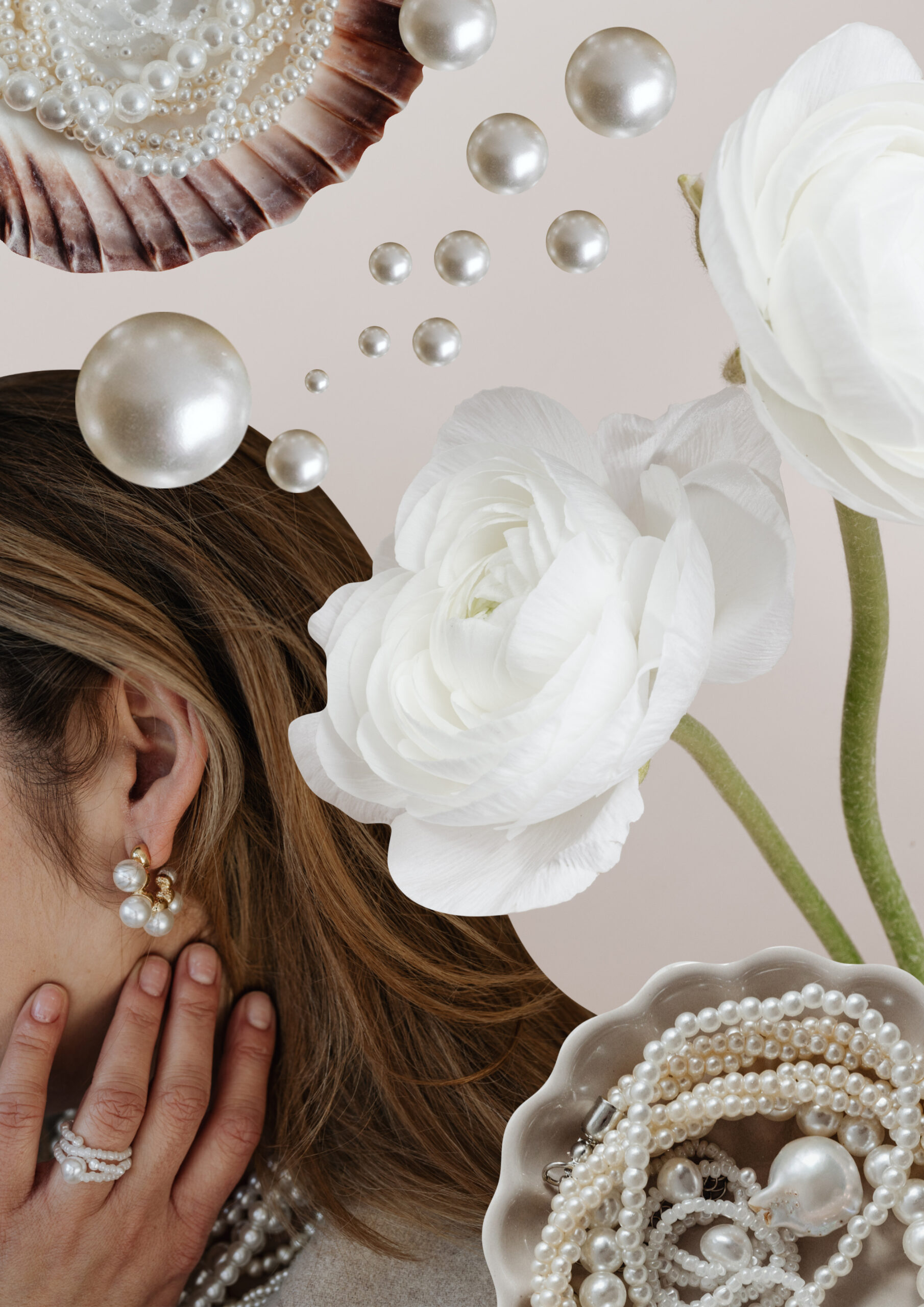 Pinterest showed trends for 2022 in a very attractive and eye-catching way. The incredibly stunning collages showing the latest trends inspired us to make our own collage using images from Kaboompics. This is our first design, so don't panic, we're not a pro! While designing this piece we went through our own free stock photos. Finding the right photos for our collage was definitely the longest part of our challenge.
Anyway, we definitely know that if you want to create a collage, there are hundreds or even thousands of free images to choose from on Kaboompics. Here we are especially proud of our idea of providing photos as whole sessions, because for something creative like a collage, it's a great solution – you are spoiled for choice.
It will be really exciting for us if you try to make your own collage from our free stock photos. You can find images showing pearls, jewelry, shells or flowers for sure. Oh, and be sure to tag us on Instagram using #kaboompics or send us an email for a chance to get featured on our page! We look forward to seeing your designs.

How can you use the pearl trend in your business?
The beauty about this trend is that, no matter whether you're a fashion brand, special events brand or a home brand the pearl trend can be easily implemented across any industry, but how exactly?
Fashion Brand – Bring the pearl trend to life, from traditional to stylish! Encourage your customer to go from simple pearl stud to more baroque options.
Special Events – Did someone say pearl themed party? From pearl inspired invites to pearl table setting and balloons, with this trend you can really go all out.
Home Brand – Pearl floor tiles and sateen-finished pearl-toned wall paint? For a more accessible everyday aesthetic, a touch of pearls here and there is an excellent way for your customers to implement the trend. Pearl frames and embellished pillows might be the way to go.
How can you rock this trend?
So, what did we loved the most about the Pinterest Trends 2022? That it will be embraced by both men and women. Once thought of as a traditional piece and now worn by all genders as a fashion statement. You can rock this trend by elevating any look. Pearl earrings combined with a simple denim look can bring out texture and give your outfit edge.
Final thoughts
The pearl trend is definitely hot right now and has a great potential to be a more lasting style statement that will be embraced by all genders.